The Extended Summer of Anna and Jeremy
A Sugary Sweet Steamy Teen Romance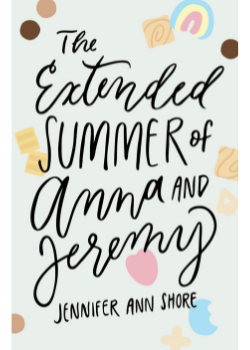 Is one summer enough time to change everything?
Anna Wright is always on her best behavior — turning in homework assignments early, keeping her head down during disagreements, and living life vicariously through action movies.
Faced with the reality of her reputation as a lame, high school cliché, she decides now is the time for a change, so when hotshot basketball player Jeremy Blake interrupts her late-night plotting over a bowl of Cinnamon Toast Crunch, she convinces him to help.
As they explore the summer together, Anna can't help but wonder what else will fall into place as autumn approaches.
Anna's Alternative Playlist
The Uncorked Librarian: "What made me extra warm and fuzzy inside was just the feel-good, wholesomeness of the book and Anna and Jeremy's relationship... If you are looking for a short, contemporary YA read that snuggles your soul and sprouts a yogic smile, most definitely pick up The Extended Summer Of Anna And Jeremy ASAP."
So She Tries: "Summer romance, cereal and teenage angst, can you really ask for anything more? The Extended Summer of Anna and Jeremy is my first read by Jennifer Ann Shore, and it for sure will not be my last! This book is a short, sweet read ... this is one of those reads that will happily live on my shelf and I will for sure re-read this one because I absolutely loved it!"
N. N. Light: The Extended Summer of Anna and Jeremy is a beautifully written summer romance/coming of age story. I connected with Anna right away as she reminds me of a very younger me. If you're looking for a unique young adult romance with realistic characters you'll fall in love with, pick up The Extended Summer of Anna and Jeremy. Highly recommend!"
Want updates on new releases and promotions directly to your inbox?
Get on the list for Jennifer Ann Shore's bimonthly newsletter.