Everywhere, Always
A Young Adult New York City Romance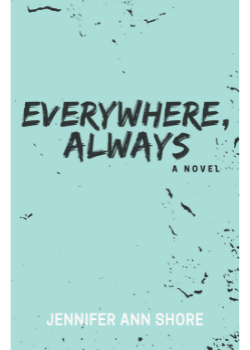 When Avery Miller wakes up in her hospital room, it's to a life she didn't expect, want, or ever imagine for herself.
She's barely given time to mourn the death of her mother as she's introduced to her new family—a father she never knew existed, a stepmother she didn't want, and a brother who gave himself the job of being her enthusiastic best friend and overbearing protector before they even met.
All it takes is one car accident to change the trajectory of seventeen-year-old Avery's life forever, ripping her from the brink of poverty in Pennsylvania and tossing her into a new life in a penthouse apartment in the middle of New York City.
The visible marks on her skin are a tangible reminder of the pain she's gone through, but it's Ethan, the guy who lives one floor below and has a Shakespeare quote for every occasion, who helps her overcome loss, find herself again, and fall in love.
Avery & Ethan's Tram Ride
A Girl Named Tommi: "The romance is sweet, but the relationships Avery creates with her brother and his friends are even sweeter. From Scrubs references to Shakespeare quotes to bags of candy and crossword puzzles, she opens herself to love and be loved and finally allows herself to heal."
N. N. Light: "Everywhere, Always is a heart-wrenching beautiful story about loss, love, family, dreams coming true, and falling in love. Jennifer Ann Shore is a gifted writer and this time, she's taking us inside the lives of Manhattan teens and their parents. Avery is a complex character, yet she reminds me of an old friend I knew in high school."
Literary Dates: "The family dynamic, the friendships in this book drove this story and I fell in love with it. And the romance…I would like a 37-48yo version of Ethan, please. He knows Shakespeare! I'll show him my rescued complete works of Shakespeare collection and we can recite our favorite lines to each other."
Sacha Fortune: "This was a beautiful, heartwarming story of loss, grief, and the power of love and redemption. Avery's overwhelming welcome from her new family was lovely, and all of the characters came to life through the author's vivid descriptions and witty dialogue."
Hidden Gems's Young Adult Novels You're Never Too Old For: "Everywhere, Always is a standalone romantic young adult novel from Jennifer Ann Shore, Hidden Gems ARC team favorite and Amazon bestselling author of The Stillness Before the Start and The Extended Summer of Anna and Jeremy."
Want updates on new releases and promotions directly to your inbox?
Get on the list for Jennifer Ann Shore's bimonthly newsletter.